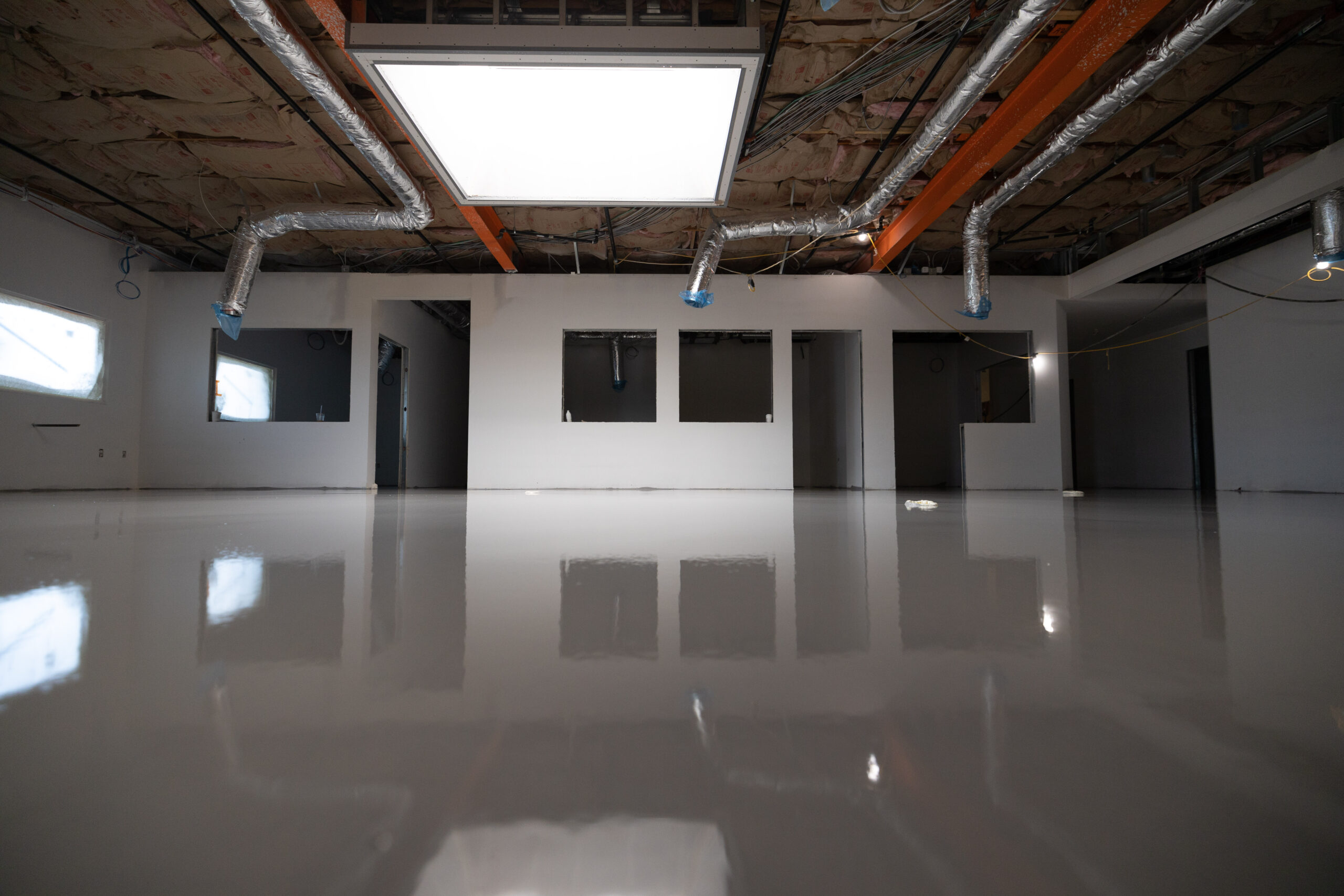 Durable, Long-Lasting Underlayment
The Gillespie Group expertly installs poured gypsum and cementitious underlayment and sound control systems in new construction and renovated commercial buildings. Between gypsum underlayment, sound control mats, and self-leveling concrete, we have the highest quality materials that your project needs. Keep reading to find out more about our underlayment applications, or click below to get started with a free project quote.
Gypsum Underlayment Benefits
Reduce pressure on framework and add security with lightweight material
Quick dry time ensures projects stay on track
Get whisper-quiet floors with sound control system
Pair with radiant (heated) flooring to skip corrosion and shrinkage that occurs with concrete
Low chemical emissions mean clear air and reduced toxins
Gypsum Underlayment Benefits
Self-leveling options make for easier, faster installation
Get smoother underlayment on rough screed flooring
Repair imperfections and renovate with little to no floor prep
Save money by repairing an old floor rather than completely redoing it
Finish large commercial projects quickly with a knowledgeable, hard working team
Underlayment Applications
The Gillespie Group uses a certified team of professionals to pour gypsum concrete and cement flooring, install sound control mats, complete floor prep for any project, and more. Keep reading to learn about our underlayment application specialties, and click below when you're ready for a free quote.
Gypsum Floors
Our expert team at The Gillespie Group pours gypsum concrete flooring using the highest quality gypsum underlayment to create durable, long-lasting flooring that is both sound and fire resistant. This floor is 28% lighter than concrete while still providing the strength your structure needs.
Sound Control Mats
By installing a combination of gypsum concrete underlayment and sound control mats, The Gillespie Group ensures that a sound resistant, fire resistant building is your utmost priority. Let our expert team help you decide which pairing is best for your project by contacting us below.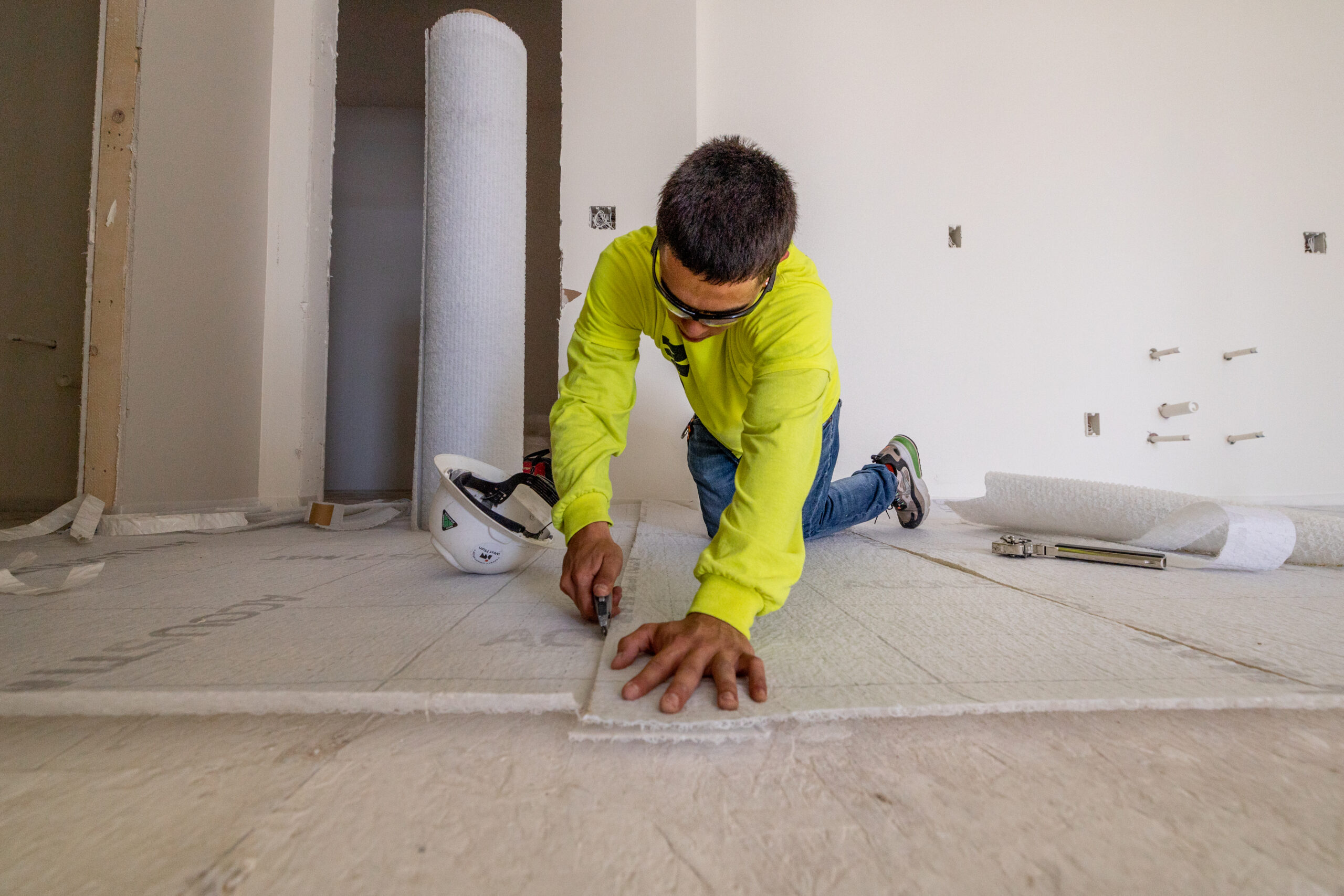 Cementitious Floors
The Gillespie Group specializes in installing self-leveling cement flooring in new constructions and renovated projects. By applying this self-leveling cement flooring, the option combines low-cost, hydraulic-based options with minimal prep work for extremely durable floors that last.
Floor Prep
The Gillespie Group not only excels at installing flooring, but we're also great at removing old underlayment and prepping for new projects. Our professional team has experience removing, sand blasting, and cleaning stubborn old floors so they can be replaced by newer, longer-lasting material.
FAQ – Frequently Asked Questions
How Long Do Your Floors Last?
Danielle Laveau
2023-07-18T17:54:24+00:00
At The Gillespie Group, we strive to create durable, lasting floors. But just how long can you expect your new floor project to last?
When floors are maintained properly, they can live for a century, if not longer. But it's important to keep in mind that with more wear and tear, you may need to replace your flooring sooner. Carpet in particular may need to be replaced every 10 years or so if it suffers a lot of staining and damage. Wood flooring can be sanded and rejuvenated multiple times before it needs to be replaced. Overall, the better you take care of your floors, the longer they will last you.
Main Office:
5 Chris Court, Suite G
Dayton, New Jersey 08810