SERVICES
If you need a bulk flooring installation for a building with tens of thousands of square feet of floor space, the Gillespie Group are the people to call.
To make your floors perform beautifully long after they've been installed, The Gillespie Group performs a full range of cleaning and maintenance services. Our certified professionals utilize only the most recognized and highly effective products and systems for cleaning and maintaining virtually any flooring surface including carpets, wood, vinyl, tile, stone and more.
Whether your floor is in a high-traffic area that needs cleaning every month or in a low-wear zone that needs maintenance just once every few years, it's important to have it cleaned using the solutions, systems and procedures that flooring manufacturers approve and recommend. To meet those guidelines, our flooring care professionals will customize a comprehensive cleaning and maintenance program for your floors that ensures their look, integrity and performance. Not only will it extend the life of your floors, but it will also maintain their warranty.
In cleaning and maintaining your floors, the Gillespie Group also complies with the highest standards of environmental responsibility utilizing green cleaning and maintenance products that are free of contaminants and harmful chemicals. When the unexpected occurs and your floor requires immediate care and attention The Gillespie Group also offers 24/7 emergency services.
There are many choices when choosing someone to install your commercial floor. At The Gillespie Group we go far beyond installation with the added value of total satisfaction and peace of mind that can only come from the way we make floors perform.
The Gillespie Group is among the most experienced and respected installers in the nation. We are proud members of The Fuse Commercial Flooring Alliance, the world's premier commercial flooring partnership. As a network member we are held to the highest standards of installation professionalism and customer satisfaction. The result is a fast, professional installation that exceeds project specifications and expectations.
As leading commercial installation experts with more than 30 years of experience we have a team of flooring professionals that are unsurpassed in their knowledge and capabilities to handle any project, regardless of its size, complexity or conditions.
Our installation specialists are trained and certified by major manufacturers and industry organizations and associations in approved techniques and best practices for the flooring they install. We believe that it's the best and the only way to make your floors perform.
The Gillespie Group specializes in handling the most challenging and difficult floor removals, including carpet and carpet tile, linoleum, floor tile, hardwood flooring, stone, ceramic and many others. From shot blasting to full on milling of concrete substrate to removing defects to severe elevation issues, we have the experience, the expertise and the equipment.
The Gillespie Group utilizes several pieces of equipment, which can handle just about any floor prep or removal challenge. Having in-house access to these highly efficient pieces of equipment means quick, effective and very clean results. Our equipment removes 90% of all floor coverings and is ten times faster than conventional methods.
To maintain safe environmental working conditions, especially in areas of restricted ventilation, all equipment used by the Gillespie Group is connected to sealed HEPA filtration vacuum systems.
In addition to the equipment used for removal of flooring material, our fast and efficient hydraulic lift systems vertically raise your library racks and remove furniture so old flooring can be removed and replaced faster and at less expense.
Making resinous flooring systems perform requires a high level of experience and expertise. It's something The Gillespie Group excels in. We are one of only a few AcryliCon® Certified Installers in the USA. AcryliCon is the only Modified MMA flooring in the world. There is no equal.
Acrylicon®
AcryliCon is the most advanced, highest performing, environmentally friendly, hygienic and attractive floor product on the market. Developed in Norway 36 years ago, many of the original floors are still in service.
AcryliCon was originally developed for the fish processing industry and has since been utilized in food and foodservice, beverage, hospital, manufacturing, institutional, aerospace, pharmaceutical, retail and other interesting applications. To accommodate the performance requirements of these diverse industries AcryliCon offers numerous types of flooring systems.
The AcryliCon materials are non-toxic during installation and emit no hazardous chemicals during their lifecycle, even in the event of fire. AcryliCon is non-porous, will not turn brittle, is most hygienic and has the highest industry compressive strength by far. It features a full cure time of only less than two hours, greatly reducing downtime.
AcryliCon is the only industrial flooring authorized to incorporate Microban antimicrobial chemistry into the resin formula for a lifetime of bacteria fighting properties.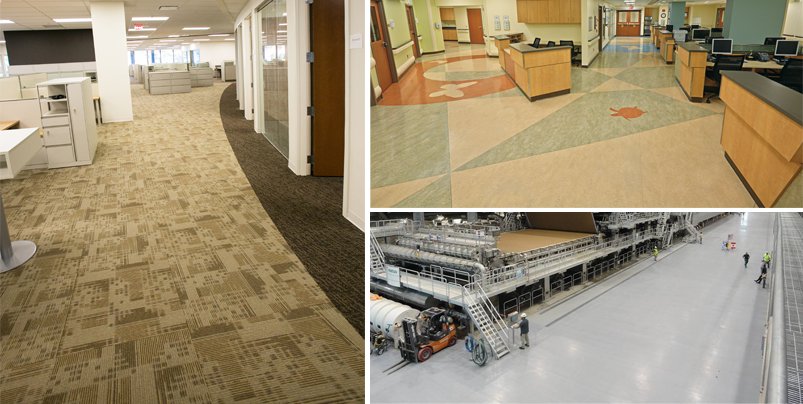 We may have started as a one-truck operation over 30 years ago, but today no job is too large, too complex or too difficult for The Gillespie Group. We've built our resources and services to be as scalable as your project demands.
From consultation, to project management, right through completion of installation, our clients have experienced immense satisfaction for their projects like the 80,000 square foot ShopRite flagship store in Brooklyn, New York and throughout all six phases of Princeton's Firestone Library.
The Gillespie Group was recently featured in Coatings Pro Magazine for our restoration of the Brooklyn Cruise Terminal following Hurricane Sandy. More than 100,000 square feet of terminal was devastated by the storm and in need of a new flooring system that would withstand any future flooding and water damage. To meet the challenge, we split the project between two coating crews working simultaneously to complete separate areas within a strict five-week time frame that, after many delays, was ultimately reduced to two weeks.
A specialized service performed by a limited number of flooring contractors and one that's been mastered by The Gillespie Group is self-leveling. This creates an ideal surface for laying any material by eliminating dents and divots, and results in a surface to which floor coverings will easily adhere.
These are just a few examples of how our services, dedicated installers and staff reflect the outstanding leadership of our president, Kurt Fenchel, who makes sure every project, regardless of size, gets done on time and on budget.
Main Office:
5 Chris Court, Suite G
Dayton, New Jersey 08810